(VAN) Vietnam has tremendous potential as a grower and producer of herbal medicine.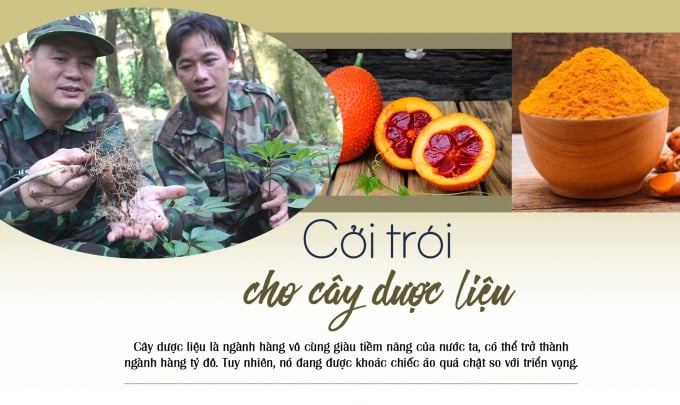 The country has 5,117 herbal plants and fungus which are used to produce traditional medicines, according to the Department of Crop Production under the Ministry of Agriculture and Rural Development.
The community of ethnic groups in Vietnam has a lot of experience and a long tradition in the use of plants and animals used as valuable medicine for disease prevention and treatment.
Up to now, nearly 1,300 folk remedies have been collected from ethnic communities. They are studied and developed into branded products, contributing to the socio-economic development of many regions in the country.
The area of the natural medicinal material source has not been assessed yet, because medicinal species naturally grow mainly on forest land and are exploited to meet the market demand.
Growing demand
As their income and lives have been improved, people are turning to natural products namely medicine and dietary supplements.
According to Market Research Future (MRFR 2019), the scale of the global pharmaceutical market is expected to reach more than US$ 129 billion by 2023.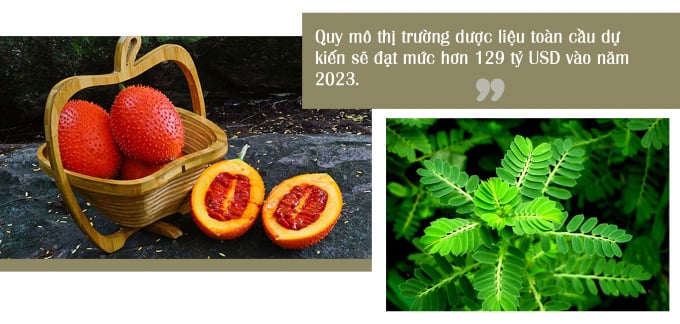 A growth rate of about 5.88 percent is forecast for 2018-2023 period.
The global pharmaceutical market segment is divided into herbal medicine; herbal dietary supplements and herbal beauty products.
Herbal medicine is by far the most dominant product in the market and money collected from the medicine was up to US$ 50.9 billion in 2017.
Governments in developed countries, especially in Europe, are very concerned with the growing demand for medicinal herbs, and have funded research efforts in this area to have high quality for customers. This is the main driving force for the pharmaceutical herbal medicine market.
According to the World Health Organisation, 80 percent of the world's population in developing countries use traditional medicine, especially medicinal products.
Vietnam now has 67 traditional medicine hospitals and more than 90 per cent of provincial general hospitals have a traditional medicine department, according to the Administration of Traditional Medicine under the Ministry of Health.
Traditional medicine has been expanded to nearly 85 percent of healthcare centres at communal level. Annually, an estimated 30 percent of patients are diagnosed and treated with traditional medicine or a combination of traditional and western medicine.
Domestic demand for herbal medicinal materials is about 60,000-80,000 tonnes per year, mostly for producing foods, medicines and cosmetics.
However, Vietnam now only satisfies 30 per cent of its demand, with the remaining 70 per cent depending on imported products.
The increasing demand for the plants and over-exploitation has depleted Vietnam's medicinal plants, especially rare species like sam vu diệp (Panax bipinnatifidus Seem) and tam that hoang (Panax stipuleanatus H.T. Tsai et K. M. Feng) in Lao Cai are at risk of disappearing.
Some species such as giao co lam (jiaogulan or Gynostemma pentaphyllum), dang sam (codonopsis), ha thu o (Chinese knotweed or Fallopia multiflora) and other kinds of herbal trees used for herbal bath of the Dao ethnic people, has saw their quantity declined, particularly in the northern mountainous provinces.
To promote herbal medicine, many provinces including Lao Cai, Yen Bai, Ha Giang, Lang Son, Quang Nam, Kon Tum and Lam Dong have paid attention to the conservation and exploitation of natural herbs.
Among regions engaged in growing medicinal plants, the Northern Midlands and Mountainous region has 50.800 hectares, accounting for 65.6 per cent of the area of medicinal herbs nationwide. Particularly, the region is home to 43.800 hectares of perennial medicinal plants or 91.6 percent of the country's total area.
Fifty out of 92 medicinal species grow on an area of over 10 hectares. Some species have had large growing areas, such as hoi (Illicium verum Hook f), cinnamon, artichoke, dinh lang (Polyscias fruticose) and turmeric.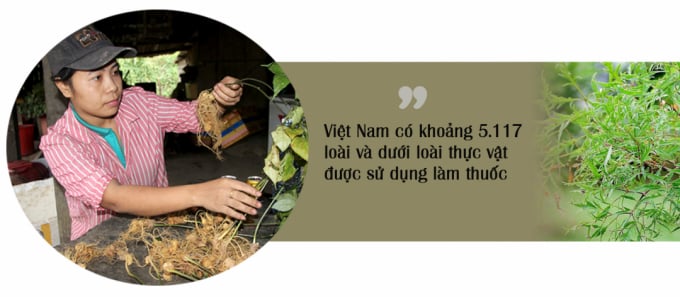 Ngoc Linh ginseng (Panax vietnamensis or Vietnamese ginseng) is a special one with high economic value. This ginseng is being researched and planted in two provinces of Quang Nam and Kon Tum with hundreds of hectares. Quang Nam alone has 136.3 hectare cultivated with the plant.
Some provinces have stepped up the development of medicinal plants into an effective and commodity production industry.
Lao Cai province is such an example. In 2017, its output reached 3.1 tons with five main medicinal plants whereas it was 15.3 tons with 15 main medicinal plants last year. The value of the plants has risen to VND 226.9 billion (US$ 9.8 million) in 2020, an increase of 776.1 per cent compared with 2017's figure.
Author: Le Ben
Translated by Mai Huong