Northern mountainous people are living with so-called 'golden mountains', but still cannot exploit the resources in the most effective way.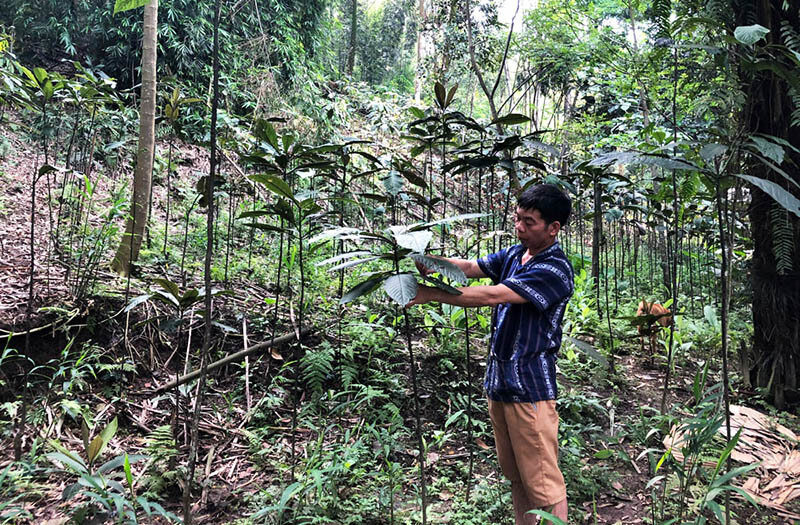 According to the Vietnam Academy of Forest Sciences, the northern mountainous region has total forest area of 5.73 million hectares, including 3.94 million hectares of natural forests and 1.79 million planted forests. Scientists have found more than 7,000 non-timber plant species, including plants that give fiber, or are used as food, medicinal herbs and cosmetics.
The plants used to make medicines and cosmetics alone comprise 4,000 species, of which 144 are listed among rare and precious species, including Lai Chau ginseng, sam vu diep (Panax bipinnatifidus), and hoang lien gai (Berberis julianae).
Non-timber forest products are associated with the life of nearly 15 million people in the northern midlands and mountains. People not only exploit natural forest products but also plant them to increase their income.
However, most products are exploited and sold as raw materials without preliminary processing. As a result, though herbs have high economic values, they are exported as raw materials at low prices. Very few non-timber forest products are put into deep processing to make refined products which have high value.
This explains why the exports of wood and wooden products have risen sharply in recently years, with turnover reaching $13.5 billion in 2020. But the exports of non-timber forest products brought $800 million only.
Tran Thu Ha from the Institute of Forestry Research and Development (IFRAD), belonging to Thai Nguyen Agriculture and Forestry University said that economic development under the forest canopy still is not commensurate with the potential. Farmers have been developing some models, but the capability and production scale remain small. The value chain is still weak, and deep processing is underdeveloped.
As a result, locals exploit herbs for sale at low prices while many plants have gone out of existence.
In Lao Cai province, the province's leaders said the forest economy has begun developing and medicinal herbs bring revenue of VND900 billion, but most of the herbs are sold raw.

Northern mountainous people are living with so-called 'golden mountains', but still cannot exploit the resources in the most effective way.
Experts point out that the herbs in northern mountainous areas are a 'treasure' which still cannot be opened.
In order to exploit its resources, it's necessary to design policies to encourage the farming of herbs, including support for varieties, land and infrastructure development.
At present, roads are still underdeveloped in many areas, and some plant varieties grown under forest canopy have low yields because of poor quality. Northern farmers can collect five tons of cinnamon per hectare, while the yield is 16 tons per hectare in China.
Nguyen Lan Hung, an expert, said when developing economy under the forest canopy, farmers can grow plants, but raise bamboo rats, sheep and fowls.
"One kilogram of canarium sells at VND120,000. One canarium plant can bring 800 kilograms each crop. One kilogram of hat doi (Michelia tonkinensis A. Chev.) is collected at VND800,000. The plants can bring high economic value," Hung said.
Minister Le Minh Hoan of the Ministry of Agriculture and Rural Development (MARD) stressed that forests are multi-use and farmers approach forests not just for timber and hydropower, but also for the forests' value. If farmers can do this, they can live well 'under the forest canopy'.
Hoan said when he visited Finland, he saw a lot of food harvested from forests on sale. In Vietnam he heard from a businessman that highlands people had sold herbs to Chinese businesses at low prices.
"We need to integrate multiple values from indigenous resources and innovate to create a new face for the northern region," Hoan said, adding that resources are limited while innovation is unlimited.
He said that forests are a treasure trove, with timber to exploit, landscapes to develop ecotourism, and land to grow medicinal herbs for processing valuable food and medicine.
Hoang, while promising that his ministry will draw up a plan on the forest economy, stressed that this will not only help protect natural resources and prevent land erosion, but also give livelihoods to tens of millions of people.
Under a Government resolution on the investment policy for the sustainable forestry development program in the next five years, Vietnam strives for a growth rate of 5-5.5 percent a year in forestry production in 2021-2025.
Tam An